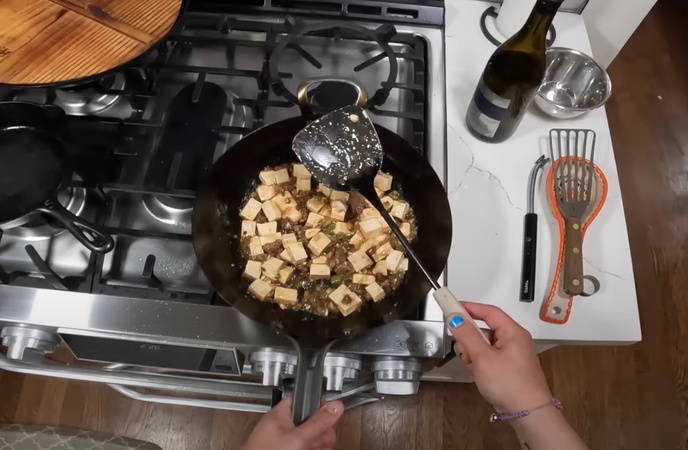 J. Kenji Lopez-Alt's Mom's Mapo Tofu
In this episode, J. Kenji Lopez-Alt shows how to make a delicious and easy mapo tofu dish. The recipe is based on Lopez-Alt's mom's version, which is a Japanese take on the Sichuan classic.
The dish is made with ground beef, tofu, garlic, ginger, scallions, sake, mirin, soy sauce, and cornstarch. The ingredients are cooked in a wok until the beef is browned and the tofu is tender. The cornstarch slurry is then added to thicken the sauce.
Lopez-Alt notes that there are many variations of mapo tofu, and that the dish can be made with different ingredients, such as miso paste or chili oil. He also recommends serving the dish with rice.
Ingredients
1 pound ground beef
1 block firm silken tofu, drained and pressed
2 tablespoons minced garlic
1 tablespoon minced ginger
2 scallions, chopped
2 tablespoons sake
2 tablespoons mirin
2 tablespoons Light soy sauce
1 teaspoon cornstarch
1 tablespoon water
Instructions
Heat a carbon steel wok over medium-high heat. Add the ground beef and cook, breaking it up with a spatula, until browned.
Add the garlic, ginger, and scallions to the wok and cook for 1 minute, or until fragrant.
Add the sake, mirin, and soy sauce to the wok and bring to a boil.
In a small bowl, whisk together the cornstarch and water until smooth. Add to the wok and cook, stirring constantly, until the sauce thickens.
Add the tofu to the wok and gently fold it into the sauce. Cook for 2-3 minutes, or until the tofu is heated through.
Serve immediately with rice.
Tips
For a spicier dish, add a tablespoon of chili oil or Sichuan peppercorns to the sauce.
For a richer flavor, use dark soy sauce instead of light soy sauce.
If you don't have firm silken tofu, you can use soft regular tofu. Just be sure to press the tofu to remove excess moisture before adding it to the wok.
Enjoy!
This wok recipe and many more can be found in Kenji's James Beard award winning book The Wok: Recipes and Techniques.