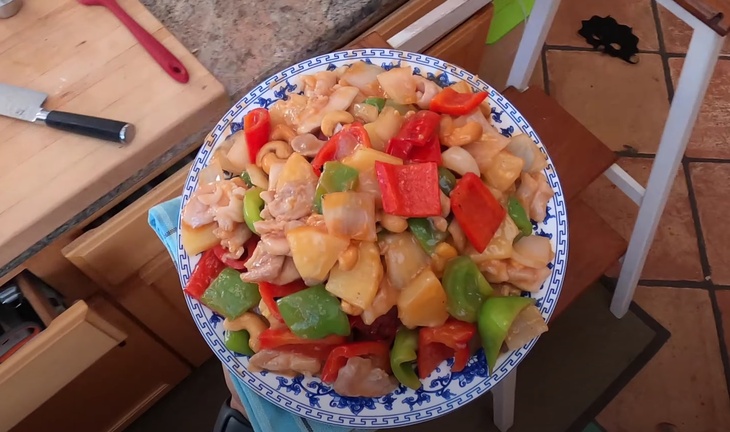 I love listening to audiobooks while I'm in the kitchen. It's the perfect time to multitask and catch up on my current book. Whether I'm chopping, slicing, stewing, or frying, I can always find a few minutes to listen to a chapter. Listening to audiobooks while I cook has become a daily routine for me, and I highly recommend it to everyone as a fantastic time hack.
If you're looking to start enjoying audiobooks, I encourage you to give Audible Plus a try. It's free to sign up and use for the first month, so you have nothing to lose. You can listen to books on your phone, tablet, computer, or even your home stereo. And if you're going to be somewhere without internet access, you can download audiobooks for offline listening.
So what are you waiting for? Sign up for Audible Plus today and start listening to audiobooks while you multitask in the kitchen!
J Kenji Lopez-Alt's Sweet and Sour Chicken
Kenji Lopez-Alt shows how to make a delicious sweet and sour chicken, which is a classic wok recipe. The key to this dish is to velvet the chicken first, which helps to keep the meat tender and juicy.
Velveting is a Chinese cooking technique that involves marinating the chicken in a mixture of cornstarch, baking soda, sugar, salt, and egg white. This helps to break down the proteins in the chicken, making it more tender and easier to cook.
After the chicken is velveted, it is cooked in a carbon steel wok with vegetables and a sweet and sour sauce. The sauce is made with pineapple juice, ketchup, vinegar, sugar, soy sauce, and shaoxing wine.
The finished dish is a sweet and sour chicken that is both tender and flavorful. It is a great dish to serve with rice or noodles.
Ingredients:
1 pound of chicken thigh or breast
1 teaspoon and a half of cornstarch
1/2 teaspoon of baking soda
2 teaspoons of sugar
1/2 teaspoon of kosher salt
1 teaspoon of Shaoxing wine
1 teaspoon of Light soy sauce
1 egg white
1 quart of water
1 tablespoon of vegetable oil
1 onion, diced
1 green bell pepper, diced
1 red bell pepper, diced
1 tablespoon of cornstarch
10 ounces of pineapple juice
3 tablespoons of ketchup
2 tablespoons of vinegar
1 tablespoon of sugar
1 teaspoon of soy sauce
A splash of shaoxing wine or dry sherry
1/4 cup of cashews
Instructions:
In a bowl, combine the chicken, cornstarch, baking soda, sugar, salt, Shaoxing wine, light soy sauce, and egg white.
Massage the marinade into the chicken for 15 minutes.
Heat a carbon steel wok over high heat.
Add the chicken to the wok and cook for 2-3 minutes per side, or until cooked through.
Remove the chicken from the wok and set aside.
Add the onion, green bell pepper, and red bell pepper to the wok and cook for 5-7 minutes, or until softened.
In a small bowl, whisk together the cornstarch, pineapple juice, ketchup, vinegar, sugar, soy sauce, and Shaoxing wine.
Add the sauce to the wok and cook for 2-3 minutes, or until thickened.
Add the chicken back to the wok and cook for 1-2 minutes, or until heated through.
Stir in the cashews and serve.
Tips:
You can use pork instead of chicken.
If you don't have a wok, you can use a large skillet.
To make the sauce ahead of time, whisk together all of the ingredients and store in the refrigerator. When you're ready to cook, simply add the sauce to the wok and cook until thickened.
Serve with rice or noodles.
Enjoy!
If you don't already own a copy, this recipe can be found in the James Beard award winning book The Wok: Recipes and Techniques.